New Garage Construction
Having your new garage built requires an experienced and knowlegeable contractor, such as us. We are highly trained and experienced in garage construction and have built many garages throughout Mishiwaka and South Bend. We build our garages with superior structural integrity that will last long beyond the average life expectancy, so it protects your investment for the future. Don't cut corners, get your garage built with good quality materials and Proffitt Garage.
Pole Barn Construction
A pole barn or pole building is constructed with post-frame construction. Pole barns have are typically built with no basement, a high ceiling and wide open areas. A pole barn is a great alternative to traditional construction because of its construction. It is usually faster to build a pole barn then a standard building reducing costs, plus it has no load-bearing interior walls so you have a lot of flexibility to your new pole barn.
Garages/Pole Barns
For any home, a garage or pole barn is a life changing addition. Both can help protect your automobiles or other items from harsh weather. You can safely store your valuables and other items that you regularly use. Everyone out there that has a garage or pole barn will tell you that its such a great addition to their home or business, and the best way to get a quality garage or pole barn is to hire Proffitt Overhead Door. With our extensive experience and craftsmanship, you will get the best service from beginning to completion. Your new garage or pole barn will be one of the best additions that you could ever do for your home.
We are a licensed and insured company serving Mishiwaka and South Bend, plus the surrounding areas. Don't hesitate to call us to get your garage or pole barn started today.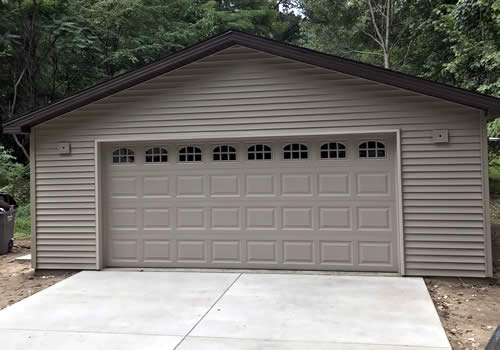 Contact us to get started, 574-266-7978
We offer a 100% Guarantee
on all our work!